Looking for the best cat backpack? We recommend the PetAmi Deluxe Carrier.
As a pet owner, you know that at some point you are going to have to take your cat or dog to the vet or otherwise travel with your animal. Maybe you are visiting friends and relatives and need to take your pet along for the ride, maybe you are moving for work and need to transport your life from one end of the country to another. In these circumstances, you are going to need a decent, reliable pet carrier.
Carriers come in all shapes and sizes. You can get the solid shell crates that you carry via a top handle or a holdall-style semi-soft shell that you can carry using a shoulder strap. Whilst these traditional carriers have been popular in the past, now might be the time to upgrade. A cat carrier rucksack might be more suitable for your lifestyle. We will take you through the best pet carrier backpack options available today and look at the reasons why you should choose one over a traditional pet carrier.
Our Top Pick
Best Cat Backpacks For Traveling With your Cat
Petami Deluxe Carrier

The PetAmi Deluxe Carrier is a well-thought-out design offered in a range of 12 different color schemes from a jazzy red to a classic conservative charcoal grey.
What is great about this design is that the pet carrier is the ideal size to fit under airline seats, is lightweight, and yet has a fantastic carrying capacity. The carrier measures 12.5 x 10.2 x 16.3 inches, weighs only 3.4 pounds yet can carry a cat as heavy as 18 pounds. This capacity is highly unusual.
The capacity is fantastic due to two elements of the construction. Firstly the PetAmi Deluxe cat pack has a solid, removable, sherpa-lined bedding base that prevents "hammocking" but allows fold-down storage on removal. Secondly, the side seams are wire reinforced to prevent collapsing. These aspects mean heavier pets can use this cat haversack without fear of the bag collapsing in on them.
Of course, if you are going to carry heavy you need good straps. The shoulder straps on this pet knapsack are padded and adjustable but the pack also features a waist belt and chest strap. This is a welcome feature for owners of heavier cats and makes this cat pack far more comfortable to use! The pack also features a holdall-style handle to the top.
Ventilation is well thought out with mesh sides and front panel, your cat will get plenty of fresh air. The sides both unzip for access. Zips to sides and mesh windows are fitted with escape-proof buckles which is a useful feature if your kitty is an escape artist of repute! An additional safety feature in an inner leash point to prevent the kitty from bounding out when the cat backpack is opened.
As well to these impressive features you also get a few additional sweeteners by way of a collapsible water bowl included and useful side and front pockets to the pack outer. This pet carrier is pitched at a lower mid-range price point. A wealth of positive owner reviews suggests, along with the features that this is a fantastic product that has been really well thought out.
Pros
12 different color choices
fits under airline seats
18-pound capacity
Shoulder straps and carry handle
Side access
Built-in leash
Good ventilation
Great build quality
Folds flat for storage
Texsens Innovative traveler Cat bubble backpack

Texsens have been making pet carriers for some time now and their Cat Bubble Bag is one of their latest offerings. Stylish, innovative, and well-designed sums it up!
The Texsens pack is constructed from a vinyl leather-look material that works well with some of the brighter color offerings in the range. What makes this pack recognizable is the bubble window. The window/viewer is 6 inches in diameter and can be removed and fitted with a mesh covering if desired.
Like the PetAmi Deluxe, this pack is airline-approved and measures in at 13.39 x 9.85 x 17.32 inches. Capacity is smaller with the pet carrier pack recommended for cats up to 15 pounds.
Access is through the sides and ventilation comes from side openings and via the viewing bubble/mesh opening. The bag features an interior safety leash but does not offer escape-proof zip buckles like the Petami Deluxe.
The Texsens bubble rucksack features padded adjustable shoulder straps, a removal washable bed mat, and a top carry handle. It does not have a waist strap or a chest strap.
This is a good-looking pet carrier but does come at a premium price point. Owners are generally happy when they review their purchase but often comment that the pet carrier is slightly smaller than expected and due to the leatherette often needs airing before use. Even Taylor Swift uses a similar cat backpack…
If you choose a Texsens to be careful to get the right model. They currently offer three different sizes of bubble bags each with slightly different features. The one we have reviewed is airline approved but other sizes may not be…
Pros
Airline approved
Stylish
Side Access
Interior leash point
Multiple size options are available
This model – a 15-pound capacity
Cons
Premium price point
Fewer color options
Smaller weight capacity than some carriers
Owners think it is smaller than expected
It May need airing before use
Petami Premium Pet Backpack

The PetAmi Premium Pet Carrier Backpack is a cheaper offering than the deluxe and, indeed, is one of the cheapest pet carriers on the market – but don't let this put you off. The Premium is, in fact, a high-quality cat pack in its own right!
Available in seven different color schemes to suit all different tastes, the premium comes in at an airline-approved size of 11.5 x 9 x 16 inches. The main difference between this and the deluxe cat haversack is its capacity. The deluxe can take a cat as heavy as 18 lbs due to the rigid bedding base incorporated into the design. The premium does not have a rigid base and as a result, has a maximum capacity of 8 lbs.
Apart from capacity, the premium also differs in so much as it is a top-loading cat carrier rather than side loading.
Apart from these two factors, the premium differs very little from the deluxe. It has sherpa-lined bedding, comes with a collapsible bowl, has extra side pockets, and comes with great airflow to give your cat fresh air – mesh top, mesh sides, and a mesh aperture to the front face of the cat backpack.
The premium cat pack comes with adjustable shoulder straps and features a waist belt and chest straps. It can be folded flat for storage.
All in all, this is a high-grade pet carrier if your cat is the correct size. Many owners highly recommend this carrier and suggest it is very easy to use.
Pros
Seven color options
Bargain price point
Shoulder straps, waist belt, and chest straps included
Fold-flat for storage
Airline approved size
Cons
Top-loading access – It might be difficult to load your cat!
Low capacity – 8lbs
Petgear I-G02 Escort 5 in 1 carrier

The Petgear I-GO2 Escort 5 in 1 cat carrier is an innovative design that offers five different users modes: backpack, roller bag, tote, car seat, or cat carrier. It has a great carrying capacity being good for cats as large as 6kgs and comes in 6 different colors.
The Escort comes in at 14 x 8 x 15 inches and will fit under an airline seat. Having the roller bag capability certainly makes this a useful bag if you are traveling by air as you can easily pull the bag if it gets a little too heavy for your back whilst you make your way around terminals.
The escort cat carrier features padded adjustable shoulder straps, has a telescopic handle for use as a roller carrier, and has a fleece inner liner and an interior safety leash making it a high-grade cat carrier.
In terms of ventilation and window design, the escort features mesh-infilled side panels and rear panels for fresh air and visibility.
The Petgear Escort cat carrier is a high-quality mid-priced offering, roller pack, and is well-liked by users who have bought this bag previously. Be careful to check the size of your cat, this carrier is snug and is better suited to small and medium cats, may tent, and hammock on heavier cats!
Pros
Five user modes: backpack, roller, tote, car seat, or carrier
6 color options
12 lb capacity
interior safety leash
Airline approved
Giantex Astronaut Space Capsule Cat Carrier

The Giantex Cat Astronaut Backpack is the second of the bubble packs we are looking at today. The rear outer is a hard PVC shell with a bubble window aperture that makes this cat carrier resemble an astronaut's capsule!
Available in 6 different color options from pink, through to leopard spots or more conservative metallic grey the capsule is sure to be both showerproof and rigid thanks to the stiff shell.
The carrier is airline approved coming in at a 15.7 x 11.8 x 11 inches allowing for placement beneath aircraft seats. The cat carrier has a 12 lbs capacity so it is good for small and medium cats. The interior features a safety leash and access is achieved by unzipping the whole rigid portion of the outer shell.
The high quality cat carrier has padded adjustable shoulder straps for comfort and also features a tote-style handle. The carrier features two side pockets for water bottles or the like.
This high-quality bubble rucksack is available at a medium price point and is well-liked by owners for its fashionable and cute appearance. On the whole, most owners report that their cat likes the cat carrier although you have to be careful that your cat is not too large for this bag. Some owners fear that the stiff outer shell may make conditions too hot on flights but it should be noted the pet backpack does come with vent holes to three sides of the bag, vent holes to the viewing dome and the window design means the dome can be changed for a mesh cover if required.
Pros
6 color options
Airline approved size
Showerproof
Rigid – doesn't collapse or hammock
12 lb capacity
Removable dome for extra ventilation
Front opening
Backpack or tote bag style
Inner safety leash
Cute look
Good price point
Why Get A Cat Backpack?


Easier To Use – Most cat owners usually opt for a rigid plastic crate style carrier the first time out – and usually get one that is a little larger than necessary just so kitty doesn't feel cramped. If you are that owner you know what a pain in the ass these crates are! Banging against your legs as you walk, making you do the dance through doorways and generally being a hassle to move in and out of vehicles and crowded spaces.
With a cat haversack carrier, all that nonsense is over! You can stick it on your back and you are hands-free…You can move like normal and life is just much easier. You'll wonder why you didn't go for a rucksack before – it is so natural and obvious!
Easier To Store

Those big ass crates store real easy at the bottom of your closet…..not! These carriers are seriously user-friendly because 99% of them fold flat for storage so you can dump them in a closet without losing too much space. On this basis alone they are worth trying out.
Easier To Use On Public Transport

Flying somewhere or going on a bus? With a pack, you can take kitty places you couldn't before. A load of these bags are specifically sized so that they will slide under an aircraft seat meaning less hassle taking your cat on domestic flights. This is another serious selling point – if you fly to visit friends and family, a rucksack makes transporting your cat simple.
Comfortable For Your Cat

I thought "hmm, that could be cramped" when I considered getting my cat in a backpack but then I realized my cat loves boxes. She can squeeze into boxes half her volume and fall asleep! An aha moment, and sure enough loads of people have no problem getting their cats to love being in these carriers – they feel secure and safe.
What To Look For In A Cat Backpack Carrier
Size

You want to look for a decent size option that will fit under an airline seat. Usually, to achieve this you want to look for something that comes in around these sizes……..Make sure to measure your cat to make sure they can sit upright in the pack if necessary. Most cats won't have any problem coping with a bag of this size.
Weight

If you got the right size, consider the weight capacity and actual weight of the bag. You want something under 4 lbs in weight otherwise the bag alone will be on the heavy side. More importantly, pay close attention to the weight carrying capacity. Some packs can't take the biggest/heaviest moggy – they slump like a hammock and end up collapsing in on our little friend. Play it safe with the weight capacity.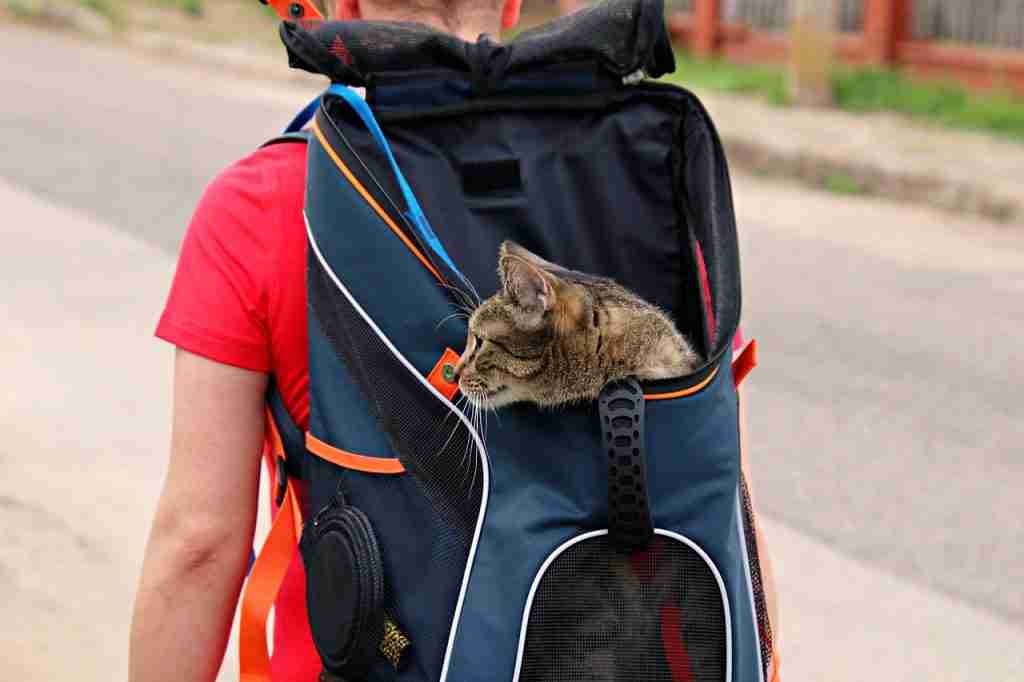 Loading Options

Sideloading, front-loading, or top loading. Cat knapsacks come with all different types of openings. You want the most versatile bag but often the structure of the bag and its inherent strength might lie in the various loading options. I would go for top loading by choice and side loading as a second choice.
Straps and handles

You got to carry this thing so you want to be comfortable. You want padded, adjustable shoulder straps as a minimum. Maybe you want a chest strap and belt strap if your kitty is a fully grown heavyweight monster….spread the load and all. If you want versatility, consider a top handle that may allow you to strap the backpack into a vehicle.
Ventilation

Of course, ventilation is important but particularly if you are going on a plane and putting the bag under a seat. I favor meshing ventilation panels – as many as possible to the side, front, and top without compromising the rigidity of the bag. If you don't envisage many plane journeys – maybe you are just thinking of vet visits then most packs come with enough ventilation and you probably won't need to overthink this one.
How To Get Your Cat Used To Using A Backpack Carrier

How quickly your cat gets used to a backpack will depend on your cat's personality. As a cat owner, you have probably noticed whether your cat is a cat that likes high places or is a cat that hides in caves. Most cats are one or the other.
A cat that likes to hide in enclosed places – caves – is going to feel really secure in a cat rucksack once they understand how it works. A cat that goes up to escape is likely to take a little more training before accepting the carrier. Having said that, all cats have individual personalities so you may find your cat has absolutely no problems getting used to the carrier even if they are reticent about going in boxes or hiding in small, confined spaces.
The first step to getting your cat used to the carrier is to get them familiar with the carrier. Don't just shovel the poor mite in and hope for the best. Lure them into the vicinity of the carrier with some of their favorite cat treats. Get them familiar just with the proximity and smell of the carrier. Have some treats around and in the carrier and make a game of it with your cat. Don't try to immediately put them in the carrier- just get them to associate the carrier with treats and good things.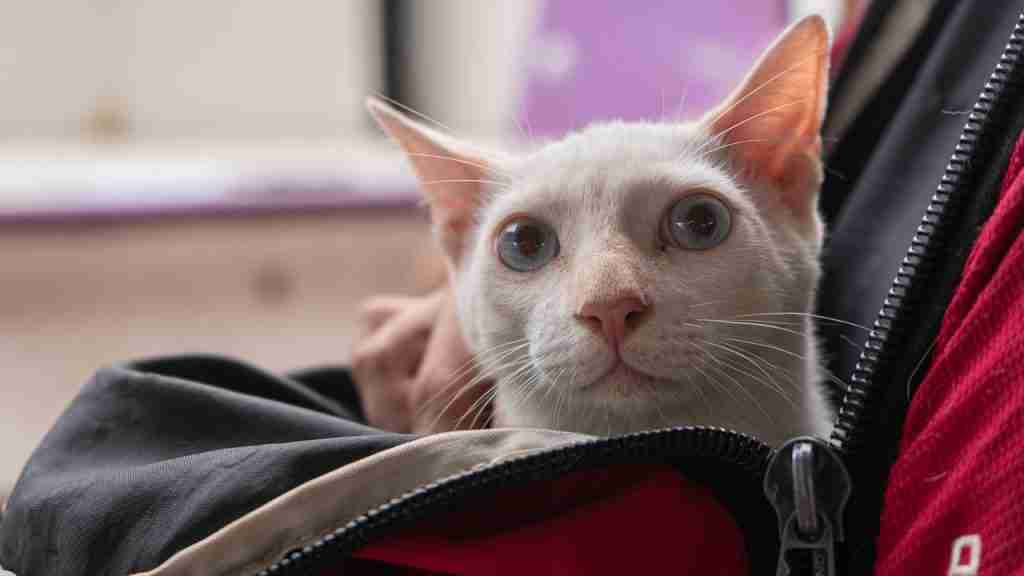 Once they are familiar with the carrier you can try tempting them in with the treats. Either remove a side or a top panel for access, put some treats in, and see if they can be tempted to enter the pack carrier. You might find they are so relaxed with the carrier that they will enter with little complaint – especially if they like boxes or small, protective spaces.
Don't force the issue, if things don't work out, just take a step back and restart the gentle coercion and bribery! Have the bag out at all times so it just becomes a feature of the home.
If they are happy to enter and have the openings closed, then go for it and pick the bag up and get them used to the sensations. At this stage, so long as the confinement is a short duration and does not end with a nasty experience such as a vet visit or similar they will probably feel ok about the bag and won't have any negative impressions of the carrier.
Once you have cracked that first pick up you can look to take them on a short journey around the block so they can learn that nothing bad happens, it is all good, no reason to panic or make trouble. At this stage, they should be totally desensitized to the carrier and fine with it.
Are Cat Backpacks Cruel?

No these carriers are not cruel. Make sure your cat can loaf in the bottom, sit upright and turn around in the carrier and you can then be sure they have enough room. Make sure the carrier you choose has adequate ventilation and some way for the cat to observe its surroundings and you are good to go.
In many instances, a carrier like this actually plays into the mentality of some cats. Lots of cats like to get in boxes and confined spaces. Such spaces make them feel safe and secure. A pack can have the same effect.
Of course, a cat can't spend all day in one of these carriers without being let out for necessities from time to time – so make sure you have a cat leash to hand
Our Top Pick

Our top pick is the Petami Deluxe Pet Carrier. We think this cat backpack offers the best combination of features and just works well. You have got loads of colors to choose from, and the construction is large so you don't have to worry about your cat having enough space – but despite its size can still be used on aircraft. We like the fact it does not hammock and feels sure that your cat is going to be as comfortable as possible. Of course, it is also about how easy it is to carry and we love the shoulder straps and carry handle – plenty of options for carrying when you are moving through an airport or coach station or just want to be hands-free to carry other bags.