If you have a cat then at some point you are likely going to need some sort of cat cage. In this piece we are going to look at why you might need one – there are many reasonable reasons, the type you might need, what you should consider when you come to buy a one and we will drill down through some of the best options available on the market depending on what you need your cage for.
Why Might You Need A Cat Cage?

Straight off the bat let's just say that we don't condone locking cats up just because they are getting under your feet, irritating you in some way, or because that's how you believe a cat should live. We think using a cage should only really happen in specific circumstances. These are some of those legitimate circumstances: 
Confinement Following Vet Treatment

If your cat has had a bad accident where limbs, pelvis or such are broken, or ligaments and tendons are torn, then following remedial treatment, a vet will often advise that the cat should be kept quiet or rather have activity levels reduced so as to allow full healing of injuries. 
This situation often arises if the cat has survived an auto accident or had a fall from a height that has bust-up hips of legs.
Bones need time to knit and muscles need time for inflammation to decrease. In these circumstances, you need to curb a cat's natural curiosity and confine them in a safe manner. A single level cage with room for a litter tray can be a safe way to keep them from harm for long periods of the day during their convalescence.
Introducing A New Cat To A Home

If you are bringing a new cat into your home and already have a dog or another cat then a cat cage can be a useful tool in the integration process. We looked at introducing a new cat and broke the process down into different steps. One of the important steps is to actually have some sort of face to face meeting and a cage can help keep protagonists protected whilst still being able to view each other. 
For Litter Training 

A cat cage is not an ideal way to litter train your cat or kitten but if your cat is having a tough time picking up on where to go and you have tried all the other avenues like placing them in the litter box, providing additional litter boxes and checking that the litter is an attractive place for them to relieve themselves, then your final recourse might be to use a cat cage. 
The idea is that you place the cat and the litter tray in the cage and let nature take its course. During the scope of the cat's confinement it will need to relieve itself and the hope is that the tray will provide the most obvious and easy option for your cat. They should then pick up on the litter tray being a natural spot. They get freed from incarceration once they have successfully used the litter tray and this freedom hopefully reinforces their natural inclination to use the litter tray in the future.
To Give Indoor Cats Outdoor Access

In some parts of the world, our cats are not permitted to wander free. There is a perceived risk to local wildlife and an increase in the local cat population means that your pet cat can't roam for fear of cat's overwhelming the local wildlife.
In other instances, you might have a cat that has been an indoor cat for the early part of its life and is just not equipped to safely navigate the big, wide world.
In these instances, an outdoor enclosure can give your cat a taste of the outdoors whilst keeping them and local wildlife safe. 
Outdoor cages or pens are only limited by your imagination and can be small pens that allow your cat to bathe in the outdoor sun or full, netted spaces that you would not consider enclosed such is the volume and size.
As A Dual Purpose Carrier/Quarantine Option

If you buy a cage that is the correct size it can be a very practical tool. A small enough cage could be both useful as a carrier and as an option for keeping cats apart in the home. 
Quarantining a cat in a purpose-made carrier can seem like a bad choice as a lot of carriers lack all-round visibility and space that a wire mesh cage might offer the incarcerated cat.
If you carefully consider the size you can have a practical option that offers some traits that make it usable as a carrier, playpen or separating cage.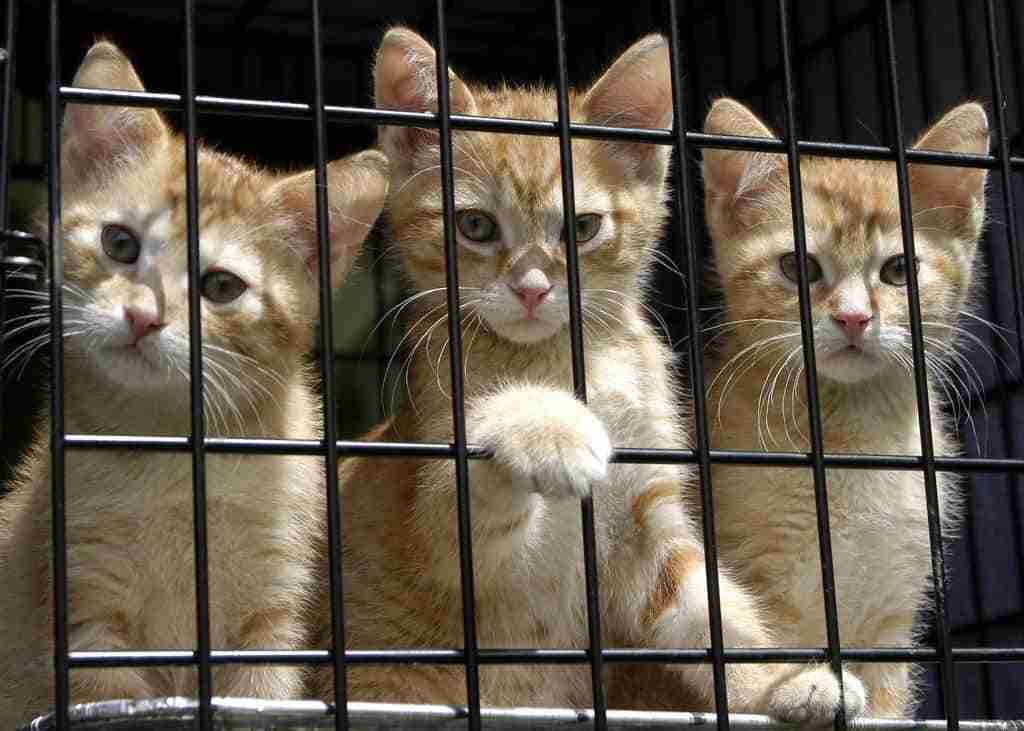 What Types Of Cat Cage Are Available?

There are a number of broad styles available:
Cat Cage With Litter Box – These are generally single-level cages but are just a bit too big to be considered as carriers. They are good for litter training, traveling in vehicles, confinement whilst recuperating, or for kittens/strays getting used to a new home or other animals. They are usually available in various sizes tailored to various needs.
Carriers – these are often small, single cat carrier cages that are really suitable for vet visits or short vehicle journeys. They offer good visibility for the cat and are small enough to carry. Generally, these carriers are too small to be ideal for longer-term confinement.
Outdoor Enclosures – these types of cages are really more like enclosures. They are often large,  fixed position netting structures that are good for letting indoor cats get some outdoor stimulation. You can get these in sizes from closet size to full room size. They are big enough for multiple cats and can be big enough to install various toys and platforms. They are usually immobile and often require self-assembly. The larger models tend to be made from timber, size is very optional – can get massive pens for the outdoors often called "catios".
Playpen – These are generally much smaller than "catios" but larger than carriers. They tend to be multi-level and depending on size, can be suitable for more than one cat. They are not an ideal option for kittens who could fall and are not good for veterinary rehabilitation. If you are trying to settle a new cat in a home and can't dedicate a room to the new cat, a playpen can sometimes be a good option. They could be used temporarily outdoors as they are a kind of middle ground between a larger catio and a basic, single-level cage.
What To Look For When Buying 

If you are going to buy a cage you need to know in your mind which type you want. This decision will immediately limit the options available and make a selection of the correct cage far easier with fewer distractions.
Once you have narrowed down the type of cage you want you should evaluate the options left and pay particular attention to :
Easy To Clean

Can you keep the cage clean? You don't really want the cage to become a dust trap or being difficult to clean, particularly if it is for indoor use. You want easy to wipe down surfaces that can take damp cloths without rusting, snagging, or ripping up cloths.
Enough room for comfort

Make sure you get one that is large enough or small enough for your needs. If you have a kitten a multi-level playpen might not be advisable until they are more mature and less prone to falls. 
If you are after a carrier you want something that a fully grown cat can travel in in some comfort – able to stand and turn is a good rule of thumb for a carrier used for short durations.
If you have a multi-cat household and want an outdoor enclosure you will probably need to go quite large so more than one cat can comfortably use the cage at any one time.
Locking Doors

Do you need to have locking doors? Lots of cats are truly clever enough, dexterous enough, and curious enough to break out of a cage if given a chance. On outdoor pens, this can be particularly worrisome. Ensure the cage you have selected can be locked for safety.
Durability

Goes without saying but you don't want a cage that is too flimsy and won't stand the test of time. An outdoor cage that doesn't have weather protection – treated timber or rust resistant steel – probably is not going to last more than a couple of years. 
A smaller cat cage used indoors or for travel that has little strength probably won't store well or offer your cat much protection if the cage gets hit by objects in a car for example. Just general day to day use will see a cheap cage get damaged on the corners or edges.
A plastic cage for outdoor use may well suffer from UV exposure and become brittle and crack easily in just a year or so. 
Extra Features

Do you need extra features? This is particularly pertinent if you are investing in an outdoor pen. You might need extra resting platforms and walkways to make the most of a large, outdoor cage. 
If you are after a multi-level indoor cage, do you need space for food and water bowls? Does there need to be space for a litter tray? Scratch posts and condos?
If you are after a pet carrier what sort of handle does it have? Does it come with a shoulder strap? 
Portability 

How important is portability? Some of the larger indoor wire cat cages that are multi-level have wheels fitted, others don't – do you want to be able to move the installation easily?
Do you want a temporary outdoor cat enclosure that can be folded away for storage or something that is more permanent.
Do you need a traveling carrier that is lightweight, and foldable? A canvas and mesh pop-up cage might be more suitable.
Best Cat Cage Options 2022
Best Enclosure For Outdoors : Pawhut Wooden Outdoor Cat Enclosure

The Pawhut cat enclosure has to rate as one of the best outdoor enclosures available on the market. It is big and roomy, made to be positioned permanently outdoors and offers your indoor cats lost of opportunity to be outdoors without feeling cooped up.
The enclosure comes flat packed. It needs two people to erect but once in place, it is relatively easy to reposition if needed.
You are going to need a big patio to position this enclosure! It does not come with a built-in floor so ideally, you need some flat and level; ground to position the catio.
With a footprint of 71 x 39 inches and a height of 71 inches, you can place litter trays and food bowls in the enclosure. The height allows for three different platform levels giving your cats options to get off the ground. 
This enclosure could probably handle three adult cats easily but two would be ideal. 
This enclosure is not ideal for kittens or cats recuperating from injury as there are too many potential fall hazards. If you want to give your cat some outdoor time and portability or space are not an issue then why not go large?   
Pros
Large 79x39x71 timber enclosure with wire netting
6 elevated platforms at various heights
Asphalt clad roof for weather proofing
Single large door for access
Ideal for single or multiple cats to bask and enjoy the outdoors.
Big enough to accommodate extra cat furniture, litter trays, food bowls.
Constructed from fir wood that is sealed with a pet friendly sealant.
Flat packed – self assembly – weighs 100lbs in flat pack form.
Users think it looks great, offers lots of space, is light enough to make moving easy when fully constructed and is easy to modify.
Seems easy to assemble.
Cons
Some users would prefer more substantial timbers and wider platforms.
Best Multi-Level Indoor Cat Cage: Midwest Cat Playpen

If you are looking for a cage you can use to introduce a new cat to your home, temporarily quarantine your cat from others, or carry out some litter training then the Midwest Cat Playpen is a great choice. 
It offers plenty of room for a couple of adult cats to chill out in. The 3 tier system probably means it is not ideal for a kitten or an injured cat that is in recovery but for most other circumstances, at 36×23.5×50.5 inches, it offers a good flexible sized option.
This is really an indoor cage but with it being wheeled it could probably be used temporarily outdoors or on a balcony if you wanted to give your indoor cat a bit of outdoors fresh air.
The major selling point is the size, mobility from wheel casters, leak proof plastic floor pan and the ability to fold down flat for storage when not in use. 
A great choice if you need something sizable that will store easily.  
Pros
36×23.5×50.5
3 levels
Triple width cabinet
Good for 1-2 cats
Folds flat for storage 
Waterproof base and trolley wheels
Powder coated wire construction
Four doors – two at upper height, two at lower height for easy access
Easy to clean – plastic coated wire
Room for litter tray or food bowls
Users like this cage, think it is bigger than you expect and it fairly sturdy. Requires two people to slot together.
Cons
Odd negative review on quality – must be some friday afternoon packs about. 
Not ideal for kittens or recuperating cats.
Best Single Level Cat Cage: Songmics Animal Playpen

The Songmics single level animal playpen is a great choice if you are looking for something that is good for kittens, good for recuperating cats, need to litter train a cat, and want something that will fold down flat when out of use.
It is not so good if you want something portable. I probably wouldn't use it to introduce cats or introduce cats to dogs as the animal on the outside could climb on the roof too easily and cause mayhem.
At 48x24x24 inches it is big enough for an adult cat to stand and turn in or occupy with a litter tray. It is also large enough for kittens to bowl about it without wandering off and getting underfoot.
Disappointingly the flooring is a fabric mat rather than a plastic leak proof tray. This limits the flexibility of the cage in many ways – you can't really use it in a vehicle or carry a cat in it. 
Pros
Good for kittens, litter training a cat, temporary enclosure for injured cats recovering. 
folds flat for storage.
48x24x24 single level basic cat crate
2 doors
Wipe clean fabric mat flooring
Tall enough for a cat to stand, long enough to walk, stretch out 
Great temporary cage – want a multi level cage for adult cats that are likely to have to spend hours in the cage.
Cons
Flooring is not very useful or substantial
Limited use options not great outdoors, not portable, not great for vehicle use due to lack of floor.
Best Portable Pop Up Cat Cage : Necoichi Stress Free Cat Cage

The Necoichi Stress-Free Cat Cage is a fantastic pop up portable cat house that is ideal for road trips and stays in pet-friendly hotels and could be a very comfortable "cat condo" for a recuperating cat.
It is a fabric and mesh construction pop up tent with zippered openings that can be popped up to create a room that is 20x20x31. When you're done you can fold it up and store it in the fabric bag provided.
The mesh windows/doors are fixed with zippers that are cat-proof – they can only be operated from the outside and the seatbelt straps help make this a very safe cage for the back seat of your vehicle.
When you arrive for an overnight stay the necoichi can function as a mini cat condo – you can unzip and roll up the mesh windows and doors and kitty can wander in and out whenever they want. 
It is suitable for up to two cats at once and can be fitted with an optional popup travel litter tray.
A great choice for road trips and temporary cat accommodation!
Pros
Ideal for traveling, and temporary convenient cat space.
Mesh and fabric construction for lightweight
Has a zipper mesh rollup window/opening system
20x20x31 when popped up
It can fit a litter tray.
Popup construction folds flat to 14x14x4.5.
Carry bag included 
Weighs 3lbs
Easy to wash
Cons
Not so easy to use as a general carry crate.
Some owners report determined cats can figure out how to escape!
Best Single Level Cat Cage Carrier: Amazon Basics Folding Metal Crate

If the only reason you need a cage is for the odd vet visit or the occasional short road trip then there is no point going crazy on a fancy cage. All you need is a basic cat carrier. 
You can get all sorts of options if all you need is a carrier – from cat backpacks to plastic carriers as well as wire cages.
What makes this metal carrier option so good? Well, it is cheap, folds flat when not in use, gives your cat loads of visibility and protection when in use and if you pick the right size will last from kittenhood to adult life stages.  
So simple it is hard to beat if all you need is an occasional carrier!
Pros
30x19x21 crate – available in multiple sizes
Double doors (side or end opening)
Folds flat
18 lbs
Carry handle to top of crate
Easy clean, plastic coated wires, plastic tray in bottom.
Cons
Not hugely flexible – no good for litter training, too small for outdoor use or long sessions of confinement.
Best Popup Outdoor Enclosure : Outback Jack Happy Habitat Enclosure

If you want to give your indoor cat some outdoor exposure but don't want to invest in a big permanent enclosure, then a popup tent outdoor enclosure could be a good option.
The Outback Jack Happy Habitat Enclosure is for cat owners who need something that can be erected easily on a sunny day, dropped at short notice and stored without taking up too much room.
This enclosure literally installs with one hand in seconds! 
You get 30sq ft of enclosed play area so plenty of room for a couple of cats to play or bask out in the sun on a nice day without being able to wander off and make mischief!
Ideal for adult cats or kittens there is room to stand, walk and move. 
Pros
30sq ft popup mesh tent play area
Single hand installation in seconds
Carry/storage bag
Pop up mesh tent design that can be extended with walkways – optional extra
Weighs 4 lbs
Users like this design, easy to use, easy to move, convenient to take down and store. 
Could be used indoors