If you are in a hurry, we think the best cat water fountain is the Cat Mate Pet Fountain
I don't know about you, but I suspect you sometimes wonder if your cat is drinking enough just as I do. Especially with a dry diet, I end up monitoring the water bowl and wondering how does my cat get by on such low quantities of water?
Of course, you catch them at a puddle or at the bottom of the bath or shower drinking the remnants but surely this isn't enough?
With such a high incidence of kidney problems in cats when you don't see them drinking for days it can be worrying. The best cat water fountains can get your cat drinking more regularly by appealing to their instincts.
Best Cat Water Fountain Reviewed :
What Are Drinking Fountains For Cats

For the uninitiated, a pet water fountain is basically a replacement water bowl for your cat.
The difference is that the water in the bowl will usually be constantly moving due to use of a mains electric water pump.
The water may often be changing height via waterfalls to aerate the water.
Think of the pet drinking fountain as an indoor water feature for your cat to drink from and you got it.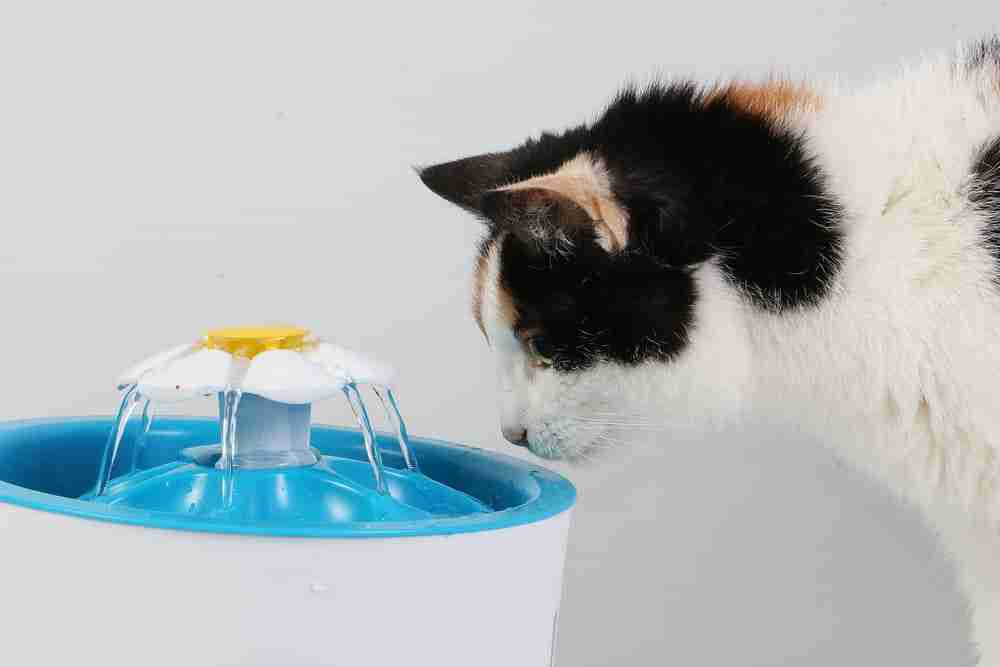 Do Cats Like Water Fountains

Ever noticed how your cat likes to drink in odd places? A dripping faucet, a fresh puddle, a toilet pan, from small pools in the bottom of your sink…These are all places cat owners will often catch their cat drinking from.
There are solid, logical reasons for your cat to drink like this :
Cats like drinking moving water – it is an evolutionary thing, moving water is less likely to carry bacteria. Still, standing water might be stagnant and can be off-putting as a result.
Some cats don't like drinking from bowls as it can interfere with sensitive whiskers.
If your cat drinks from puddles it may like aerated water free of chemical treatments.
If your cat drinks from dripping taps it may like aerated running water without having whiskers bent.
You can see how a pet drinking fountain is likely to be enticing for your cat – aerated, filtered, moving water without interfering with whiskers – an ideal drinking spot.
If you have a cat who does not drink enough water (you can check by pinching the skin between their shoulder blades – if the skin remains tented kitty is dehydrated, if the skin returns to position naturally elastically kitty is fine) a water fountain could provide the temptation to get them drinking.
Does a cat need training to use a water fountain?

Training is generally not required.
It is wise to keep your original water bowl going during the transition phase. This allows you to monitor the difference in drinking habits and gives kitty time to approach the fountain at its own pace.
Place the new fountain well away from food. Cats generally don't naturally drink near their food source. Again, this is an evolutionary thing, avoiding contaminating food supplies and all that.
Place the fountain in an area the cat feels to be a safe place where it won't be jumped.
Place in an area where potential splashing or waterfall noise won't affect you.
Try to use filtered water if possible. Water out of a standard filter jug should do. You are just trying to minimize chemical odor or water hardness issues.
And that is it. Your cat should come across the fountain in its own time and natural urges should take over from there.
What To Consider When Looking For The Best Cat Fountain

Should the cat drinking fountain have a filter? Lots of the fountains on the market come with filters to clean water and then trap hairs. These can help the pump to last longer. Strictly speaking, a filter is not necessary if you have a water filter jug at home. The water from that can suffice and regular cleaning should prevent the pump from clogging up on most models.
How big should the capacity be? It depends on the number of cats in the household, the cats' diet(dry food needs more water), and how long the cat will be left alone. Aim for a water capacity of one liter per cat per day and you won't be far off from having the correct capacity.
Bowl size or whisker interference – A longer fountain stream that allows the cat to drink without placing its head in a bowl may be beneficial or a bowl with a larger flatter base to reduce whisker interference.
Speed of flow – Ideally you want as much choice as possible when it comes to flow speed on the pump of your fountain. Lower speeds should mean a quieter pump that also lasts longer. Additionally, some cats may be nervous approaching a raging, boiling torrent for a drink…
Plastic, Ceramic, or Stainless Steel – Fountains come made from all sorts of materials and different materials have different properties and prices. Ceramic and stainless steel fountains are likely to be heavier than plastic fountains and less likely to acquire odor issues over time. They are easier to clean but initial costs are higher. A plastic fountain can be a good way to cheaply test your cat with a fountain and even a basic fountain should last years rather than months.
Cleaning – These items need regular cleaning to prevent the pumps from blocking and to keep the waterways clear and clean. It is wise to consider how easy it is to take apart and clean your fountain on a regular basis. Check owner reviews where you can because some models are really easy to clean and some are a pain.
My personal choice – either ceramic or stainless steel to avoid odor issues long term, a water drop for both aeration and to allow drinking without dropping head into a bowl, mains electric or rechargeable power, at least a basic filter to catch hairs, larger dust items. And a decent water capacity circa 1l per cat.
Top 5 Fountains For Cats Reviewed.
If you are a multi-cat household looking for a large capacity water fountain at an affordable price then the Catit Water Fountain is a good choice for you.
Maybe you suspect your feline family members have sensitive whiskers. Perhaps they don't like small bowls so only drink from puddles after rainfall. Maybe they hang out around the faucet waiting for drips or to mop up the leftovers after you run the water? This is probably a good choice fountain for your kitties.
You see this pet fountain holds a good 3 liters of water, enough for multiple cats to get by on over the course of the day and heavy enough that your cat won't knock it over or spill water as some cats do.
The water doesn't pond on this fountain-like with other designs – your kitty has to catch the water or lap the water off the central outlet. The water is constantly moving and aerating. You get to choose from three settings – burbling, continuous calm drip or multi-stream waterfall flow. This means those whiskers don't get tickled.
Practically speaking this cat drinking fountain is dishwasher proof and needs minimum maintenance. Plastic construction is durable and multiple filters ensure the water is always clean and fresh. Constant water movement keeps bacterial growth to a minimum.
One of the best cat water fountains if you have multiple cats and don't want to spend big money.
Maybe a 3-liter capacity is not enough for your household. Maybe you are cat crazy and need to go larger! Maybe you have a cat and dog that could use a drinking fountain? This 4.7-liter fountain might be the answer for your household…..it does come at a higher price than the Catit Flower Fountain though.
Petsafe has been making pet fountains for years and it shows with this no-nonsense offer. With this model, they put all their knowledge and experience to play.
The platinum fountain only comes with one stream but you can alter the speed of flow to suit any requirement. The water collects noiselessly in a reservoir pool at the bottom of the fountain that is large enough to avoid interfering with whiskers. Your cat or dog can drink directly from the waterfall stream or dip into the refreshing pool of aerated moving water at the bottom of the fountain.
Many owners love how this fountain attracts their pets and really gets them drinking more.
They love how they can see the water levels easily so know when to replenish the fountain.
Many comment on how reliable their fountain is. Some owners have their fountain running 24/7 for years without issue – and this is not uncommon.
HOWEVER, lots of owners find it hard to keep this fountain clean. It is not the visible design that is the problem – it is the fiddly interior parts. Owners report this machine needs a clean-up once a week or things can get slimy. The major components can go in a dishwasher but pumps and pipes need cleaning out thoroughly. The kit comes with cleaning brushes but your mileage may vary.
Overall this is the best pet water fountain if you are looking for a high-capacity drinking fountain.
The Cat Mate pet fountain has been around for a long time now but it is such a great design it just keeps going.
If you need an inexpensive fountain for a household with up to two kitties you can't go far wrong with this model.
Constant flowing water – check. Variable flow – check. No dripping noises – check. Whisker stress-free zone – check.
Something the others haven't got – three different sized and height drinking tiers. Linked by two burbling water slides. An absolute kitty water land adventure!
The total capacity is 2 liters which might not seem a lot compared to bigger fountains but for two water-shy cats is easily enough to get them through the day.
Dishwasher safe plastic construction and various filters to keep things fresh as well as aerated. This fountain comes with a handy long power cord (10ft) to get maximum positioning options.
Just to top it off it comes with a three-year warranty.
Loads of owners love this model and think it comes apart easily for dishwasher cleaning and report their cats loving using the fountain. But there does seem to be some reliability issues. May be why such a great warranty has been added to the product.
If I was buying for one cat and didn't want to spend top dollar, this is probably the best pet fountain that you could choose. The drinking options really seem to attract cats to drink from it and on balance, it seems to be quiet and easy to clean – at the right price.
Without a doubt, the Petsafe Pagoda Fountain is a stylish item. In my opinion, it is one of the best-looking cat fountains on the market – but it is also quite clever. The square design means it will neatly fit into a corner unlike many other models on the market.
You have two drinking levels and two waterfalls to keep water moving, kitty whiskers have plenty of room and won't get stressed.
The pagoda is ceramic and available in multiple fashionable colors (blue, red, taupe and white). The ceramic design should make cleaning easy and reduce odor issues over time.
Capacity is 70 oz or 2 liters. This should be easy enough for a couple of days if you are a one cat household but is only really one day worth if you have two cats or a cat and a dog.
These water fountains get loads of good reviews. Owners love that their cats drink more water and that the fountain looks so good. But, being ceramic, the price is premium and lots of people say these water fountains have quite a loud burble that can be irritating over time – but then some find the noise soothing…
These cat fountains are easy to clean but you need to regularly clean the pump out. Water flow reduces if the pump is not cleaned out every couple of weeks.
This is a pretty premium model that will get your cat drinking more whilst looking good.
The Pioneer Pet Raindrop Fountain is the only stainless steel fountain in our selection.
The raindrop fountain offers two drinking areas, one a large reservoir that your cat can use with minimal whisker stress, the second a burbling stream area with gently moving water.
Flow is adjustable and the fountain operates quietly as the water streams or flushes along the fountain bowl to the large reservoir rather than dropping from a waterfall.
The bowl has a 1.7-liter capacity so it should be adequate for a two-cat household if it is filled daily.
The stainless steel is easy to clean and a charcoal filter helps absorb chemical odor and reduce water hardness scale.
The raindrop is a mid-range price and comes with a one year warranty. Features a 1.7m long power cord to give extra positioning flexibility.
Generally, users like this fountain for its looks although a number report it is not as easy to clean as they hoped and that there are some reliability issues and even some cases of their cats just not being attracted to drink from the raindrop fountain. The majority seem to have few problems.
Personally i would avoid this fountain as my cat might not find it attractive enough and i would be wary of the cleaning issues.
Our Top Pick

My pick for best cat water fountain is the cat mate pet fountain – although I would be happy with any of the fountains listed.
I have picked out the cat mate because I think with three drinking areas and two flows it offers enough temptation to get my cat drinking from it all at a low price point.
Additionally, it has a variable flow, good 2-liter capacity, and a great warranty. It is hard to identify a big potential problem with this model.