Are you a cat owner who travels? Maybe you end up on road trips accompanied by your kitty on the backseat, or end up as a guest at friends' houses with your cat in tow?
Maybe you have to transport your cat whilst on foot through airports and on buses? Maybe sharing a hotel room with your cat is not unheard of in your world?
If you are, you are the sort of owner who might be interested in the best travel litter box for your cat and your epic journeys!
A conventional tray or box isn't so easy to travel with, especially if you are on foot. They tend to be large, rigid and awkward – generally difficult to handle around the place and altogether a pain in the ass!
For the discerning cat-owning traveler, you can now alleviate all that awkward, pain-in-the-ass litter tray action and opt for a purposefully made portable litter box that will make your life so much easier!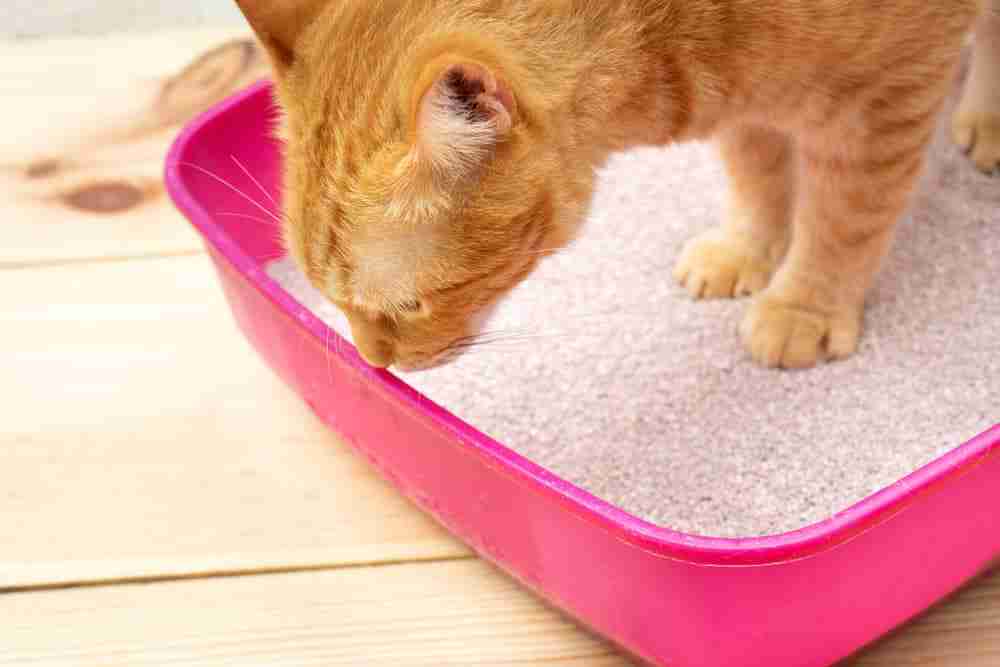 The Two Types Of Travel Litter Box

These days we travel types are not hamstrung when it comes to cat litter boxes. We now have a whole bunch of easy-to-use options we can choose from.
These options mainly fall into two broad groups. You can go down the disposable route or opt for the reusable, fold-down option.
Both are great choices, but the type of travel you embark on might define the best type of box for you and your cat's needs.
Here are the broad characteristics you can expect to find in each type of box:
Disposable Travel Litter Box – These are generally a cardboard construction, similar to the pressed cardboard trays they use in hospitals. Likewise, they are not longterm waterproof – but they are recyclable.  
These portable litter boxes are available in various forms. You can get the covered box style cat litter box or the open tray variants. For convenience, some are flat packed and you pop them up for use and then just dump them after use. Others are a pressed cardboard that won't fold.
All of them are generally cheap, light weight, one-time use options and you are probably best used with some sort of waterproof liner due to the waterproofing issues, although some claim wax finishes which improve waterproofing…
Fold-down litter tray – These are multi-use, portable cat litter boxes. They are often made from plastic or fabric coated board with a polyurethane liner.
Available in fold flat squares, rectangles and circles, they are usually small and lightweight for transport, they tend not to be enclosed cat litter boxes. 
Generally, these collapsible cat litter boxes can be hand or machine washed so you get multiple uses out of them. A lot of options on the market come with a waterproof coating but some will need a waterproof liner to be fully waterproof. 
Essentially they are easy to stow or carry in transport and can then be erected when needed to create a litter tray and can be washed for numerous journeys over time. Some clever systems are made to fit purpose-built carriers combining carrier and litter tray. 
Which Is The Best Choice?

How you travel and how often you travel is going to determine which type of travel cat litter box is the best choice for you.
If you are a regular traveler and often travel with your cat by car then a collapsible portable cat litter box option that you can use on a regular basis is probably going to be the best choice for you.
Some fold down options can be fitted into a cat carrier so you might not have to stop as often for rest breaks!
If you just occasionally travel or only anticipate a short overnight break and can't really let your cat use a cat litter box whilst on the road, then a disposable travel litter box might be the best option for you considering your circumstances. 
Both types of travel litter box generally weigh similar amounts but not all disposable cat litter boxes fold down so for the traveler on foot using airports or buses you should consider if the fold-down options are easiest to carry and then you just have to consider how often you are going to use the tray!
An additional benefit of the multi-use fold-down option is that you could conceivably use it at home on a day to day basis if you needed multiple cat litter boxes – the disposable trays simply aren't up to that kind of use, even if you used a liner with the disposable…
In terms of price, the disposable options often come in multipacks. A multi-pack of three to five of these trays is often comparable to a single multi-use fold-down portable litter box.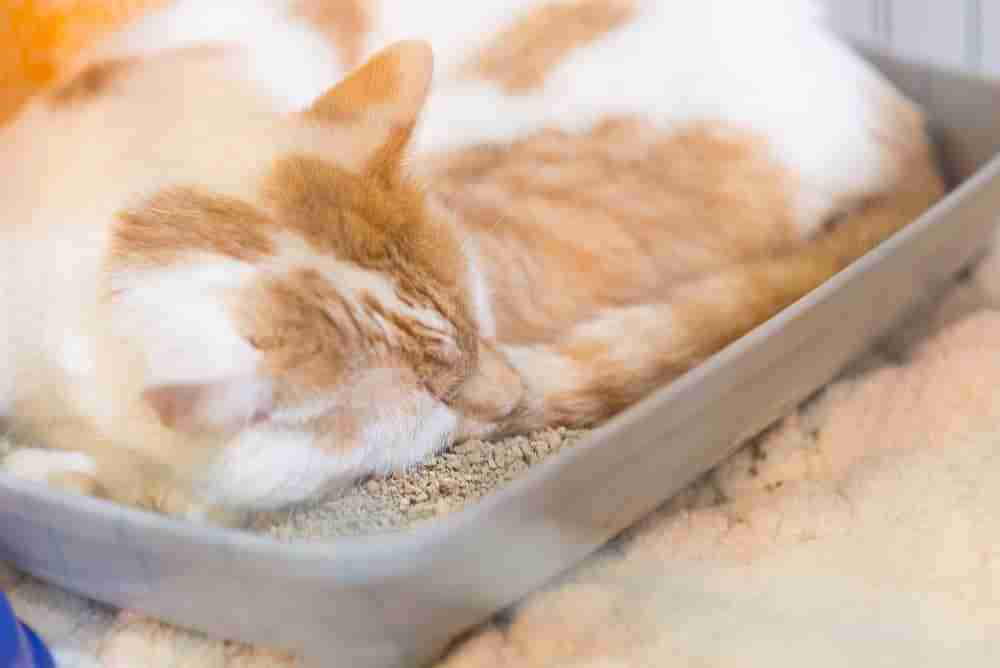 What To Check For With Each Type

So you might already have a general idea of which type of portable cat litter box you are going to go for but what else should you look for? Here is a handy rundown on what to look out for with each style of box :
Disposable – Do you think this is the option for you? Do you want a basic open pan or a covered box? Both are available. Usually, the open pans are pressed cardboard or plastic and may offer some waterproof qualities. 
The trays are lightweight to carry but a fixed shape that might not be so easy to bag. The covered boxes tend to be pop up cardboard affairs that are easy to carry but need liners or come with a polyurethane membrane for waterproofing. Which raises the question – how recyclable do you want your disposable tray to be?
Plastic or polyurethane-coated trays offer waterproofing, but the ability to recycle is limited. Conversely fully recyclable trays may not be waterproof and may need liners. 
Non-disposable trays – These are always fold down open trays for size, weight, and convenience. If your cat is used to an enclosed box then these trays may leave kitty feeling vulnerable! 
They are generally easy to clean by hand or machine but being plastic is probably never going to be hugely recyclable. 
Lightweight and easy to pack down, these trays are a winner for the traveler.
Unless you are hell-bent on chucking the box away after use, or your cat just won't use an open tray this is probably going to be the most convenient, cost-effective and viable solution available.
Our Top Picks
Petsafe Covered Portable Cat Litter Box

If you're looking for a disposable portable cat litter box that can be erected in seconds and give your cat privacy this cardboard option from Petsafe could be a perfect choice. 
The portable litter box is fully enclosed and literally pulls up and slots together in seconds for convenience. The box is available with or without litter. The empty version where you supply the litter comes in at 1.8lbs weight. 
The litter box is pretty easy to transport – it comes folded flat and rises to 16 x 12 x 14.4 inches. 
Worried about waterproofing? This cardboard litter box has a wax coating that extends the waterproof qualities. The version that comes with litter uses a silica crystal litter that is highly absorbent. If you're going to use your own, clumping cat litter might be best!
This is really a one time use option. A number of owners comment that although they would like to use the litter box several times it really only stands up to single-use – the problem is that the folded cardboard can't take being folded and unfolded too many times!
For the cat who is used to an enclosed litter box, this disposable option is great for an overnight stay! 
Pros
Folds Flat
Disposable cardboard
Wax coated for waterproofing
Enclosed for the shy cat
Lightweight and easy to carry in luggage
Cons
Only robust enough for single use.
Kitty Wonderbox Travel Cat Litter Pan
The kitty wonderbox litter box is constructed from pressed recycled paper so it is about as environmentally friendly as it gets! The paper construction apparently lets air flow through whilst being waterproof. The end result is you get a drier, less smelly litter box.
These are not enclosed and purely come in a pressed, tray format – so there is no folding smaller or privacy for your cat. If you are ok with that you are looking at a pretty neat product!
Lots of cat owners use these as liners to their permanent plastic trays as they are easy to use and dispose of and cut down on washing out trays. Surprisingly owners report that if you scoop these out they can last weeks….not what you expect from recycled paper.
On travels, they hold up well and do a good job. Size-wise they are big enough for most cats – even those who have a tendency to back into a corner, so to speak! They come in at 13 x 17 x 3.5 and weigh about 3.5 lbs for a three-pack. 
They don't tear, leak or shred and that seems to be confirmed by satisfied owners. In fact, many seem to use these disposable trays around the house as well as on travels so they are robust, clean and tidy to use!
These seem to be the ideal travel cat litter pan for a kitty on a road journey by car, a cat with a stay of more than one night and for owners who don't like to get too involved with litter tray cleaning – just use and toss away!
Pros
Environmentally friendly
Durable – last up to a month
Easy to use
Waterproof
Cons
No enclosed or fold-down option
Ten Second Portable Cat Litter Box

The ten-second portable cat litter box is a cardboard fold-down litter tray. It is not enclosed nor is it made from pressed paper or card. It is waxed cardboard, waterproof, easy to erect, high sided, disposable litter tray that is ideal for using whilst traveling or can be used in the home if you don't like the inconvenience of cleaning a tray – just use it and dump it knowing it is recyclable!
Fold-flat and non-enclosed means this is really convenient on your travels. What's more, they genuinely seem to be waterproof so you can rely on them!
The travel cat litter pan pops up to 17 x 6 x 13 so it is a decent size and the high sides make it a good option for the cat that flicks litter or has a bad aim! Each box weighs less than a pound so they are pretty convenient if you are on foot or in a car.
They are sold in packs of ten and the manufacturer recommends one each week over a ten-week period. This can make them look like a pricey option but they are reasonably comparable with other disposables – it is just a case of do you really want ten at a time? They should offer more pack sizes to suit occasional travelers….
Users really like them – easy to use, waterproof, good on size, easy to transport. If you need a travel litter tray that will fold down and can be used once or left out for a few days this is a fine option. 
Pros
Waterproof
Environmentally friendly to dispose
Easy to use
Fold flat
Lightweight
High sides 
Cons
Not enough pack size options 
Necoichi Pop Up Portable Cat Litter Tray

The Necoichi pop up travel litter tray is the original reusable, easy cleaning, fold flat, pop up portable litter tray. The tray is a waterproof, machine or hand washable litter tray that pops up and is fixed upright by simple pop studs.
This is a traveler's lifesaver! Lightweight at 1.4 pounds, the tray measures 14.8 x 10.8 x 4.9 inches when fully erect. The high sides minimize spill and offer you cat some privacy. The base is claw proof and waterproof so it can be used again and again without liners.
Necoichi also offers a soft cat cage for travel that will accommodate this litter tray with no problems.  
User reviews are almost universally good for this litter tray – although sometimes people think the tray may just be on the slightly smaller size (especially compared to standard home litter trays).
If you are looking for a litter box you can use time and again, a tray you can use at home as a backup or a tray that will fit into a carrier then this is a great choice!
Pros
High sides
Fold Flat
Reusable
Machine/Hand Wash
Price
Fits many carriers
Cons
Maybe on the small side for some big cats!
Petleader Collapsible Litter Tray

I could say that the Petleader Collapsible Litter Tray is a copy of the Necoichi concept but I won't! 
They have identified the flaws and attempted an improved product along the same concept lines. 
Specifically, this collapsible litter tray is larger and therefore more suited to the bigger cats, an issue some users highlighted with the Necoichi – the problem with this is that trading up to the larger size might mean the tray will not fit in your carrier! For comparison, this tray comes in at 15.7 x 12.6 x 4.9 inches when erect.
The second change is that they have incorporated a lid – a great idea, but it does add to the weight and reduce the folding options when you come to pack it away. 
So all told, slightly different, but the same general concept. You get the waterproof, reusable litter tray that will fold down – it is just a little bigger, heavier and doesn't fold as small! But if you have a bigger cat then needs must!
Pros
Folds down
Easy to install
Waterproof 
Easy to clean 
Larger option for bigger cats
Cons
Heavier
Doesn't fold as efficiently as some litter trays
Doesn't fit as many carriers as smaller trays might.
Petneces Cat Litter Box

The Petneces travel litter box is a slightly different take to the Necochi and Petleader options. 
The petneces tray is not really a pop-up, fold-flat system with rigid sides – it is more of a padded, single opening bag where a whole side of the bag is open.
It can be rolled up when not in use but to use you simply lay it unroll it and lay it down flat !
It is far larger than the other two options coming in at 18×14 x 5.6 inches but it does stow away easy – rolling up is a good way to minimize the size. It is waterproof and easy to use.
If you have a larger cat, want a reusable tray but need something that really minimizes down whilst you are on a flight or carrying luggage whilst using a cat backpack then this could be a perfect option.
Pros
Large Size
Waterproof
Reusable
Small size when rolled up
Cons
Size might be more than you need
Do We Have A Favorite?

Not really! This is a horses for courses decision.
You need to evaluate how you are likely to travel, think about the size of your cat and decide how often you are going to use the tray – will it be a secondary tray at home or purely for travel?
Do you really just want a disposable for cleanliness and convenience or do you need something that is versatile for almost any travel situation? 
My two favorites are the ten-second cardboard box because it folds down flat and can be chucked after use and the Necoichi travel litter box because it will fold but also fit in a variety of carriers – however if you chose different I wouldn't be surprised – each option presented clearly has benefits depending on your circumstances!