Do cats have belly buttons? And if so what does a cat belly button look like and where can it be found? Yes, they have navels but not like humans – theirs is more of a scar where the umbilical cord used to be and it is higher up their stomach than you might expect. Read on to learn more…
All cat owners know more or less what a cat looks like. Even though cats have different patterns to their fur and characteristics (like ear tips and tail types) which set the different breeds apart, some things can be assumed to be the same with most felines.
For example, most cats have whiskers that stick out from the side of their faces. Cats also have additional "sensors" along their body that act as smaller whiskers to help them find their way.
The majority of cats have eyes, ears, and distinguishable faces. 
Navels are one of the feline parts that many cat owners wonder about. 
Do cats have an umbilicus? Well, why can't you see them? Most cat owners can't answer this question without either looking or looking it up.
It's a more common question than you might imagine!
Here's what cat owners should know about cats, their navels, and how to take care of them.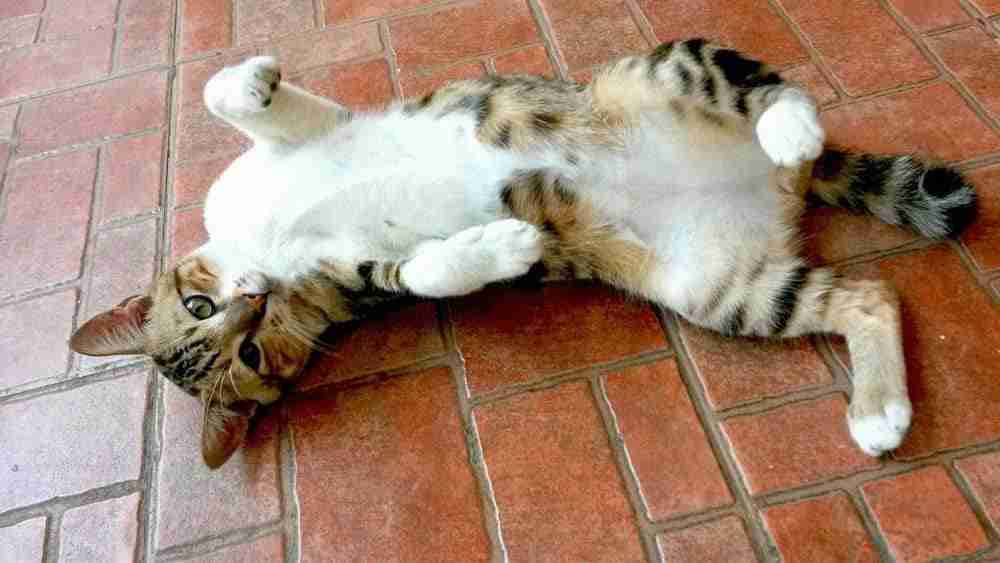 Do Cats Have Belly Buttons? 

The short answer to this question is yes! 
Cats all have belly buttons. In fact, the majority of mammals that you could think of to mention do.
Belly buttons are where the umbilical cord attaches to the body. This happens inside the womb before birth – and since most cats are attached to one when they are both, the answer is yes.
The reason why owners don't see their cats' buttons is actually a simple question to answer.
Cats are covered in fur, and a cat's navel isn't located where a human might expect to see their own. Sometimes, most cat owners just don't think to look if their cat actually has one until the day they ask!
Additionally, feline umbilical cords are not tied off at birth so don't create innie's and outies like in humans. In cats, the umbilical cord is sliced off by teeth and allowed to heal naturally resulting in a smooth scar rather than a button.  
Do All Cats Have Belly Buttons? 

Well, yes.
Kittens all develop in the same way, and all cats have an umbilicus for this reason. There are a couple of physical conditions (such as a hernia) that might make a navel scar stand out as more obvious, but in most cases, it's just hidden by fur and the scar naturally fades over time.
Want to see your cat's belly button? 
Follow the middle of their stomachs, more or less. Remember to check between the fur, and it's likely that you'll find it. 
Why Does My Cat Attack When I Touch Their Belly? 

If you've looked to see if your cats have a belly button before, the first thing you might have seen your cat do is claw, bite, or kick when you attempt to touch their belly.
This is a normal reaction for the majority of cats.
Most of the time, cats don't like to have their stomachs touched or tickled. Some cats might allow their owners to (very occasionally!) scratch or tickle their belly.
Why?
It's a defense mechanism. The belly is one of their most vulnerable points, and most cats will either turn "belly scratches" into play fighting – or simply, just not enjoy doing it.
Why Can't We See Cats' Belly Buttons?

The first reason is that cats are covered in fur. 
The second reason is that cats just don't like it when their owners look – so most pet owners never get a close, careful look at their cat's belly standing still long enough to know.
The third reason is that the belly button is simply a scar on a cat that fades over time like scars in humans.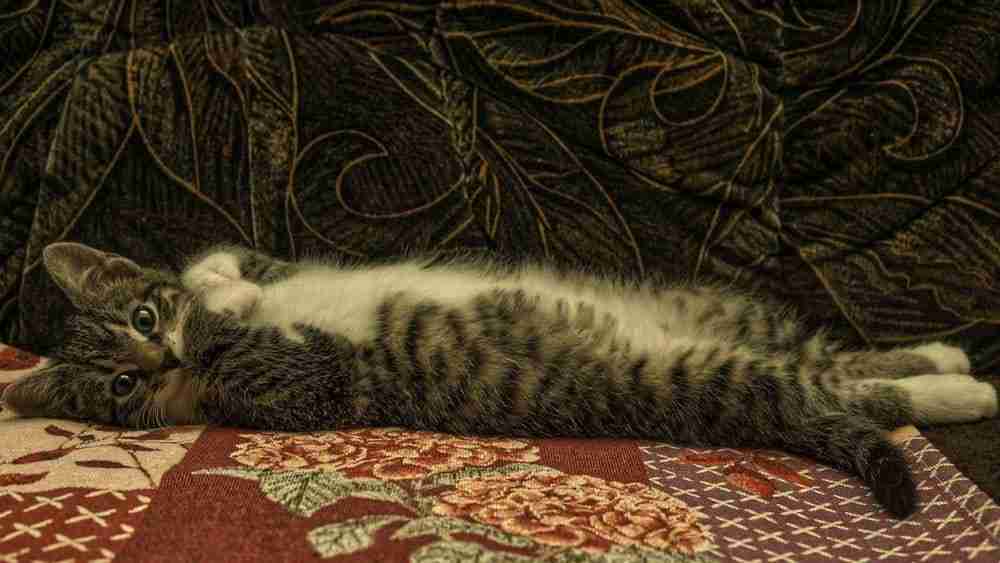 Why Does My Cat Seem Obsessed With Their Belly Button?

When a cat develops an obsession with scratching or licking its belly button (or the area that surrounds it), it might be time to see a vet.
It can be a nervous habit, displayed when a cat is experiencing emotional stress. 
It could also indicate physical conditions such as a rash (or physical pain) in the same area. Obsessive licking or scratching is usually a cat's way of trying to relieve an issue they feel.
If there are no visible signs of a rash or infection, the problem might be internal. Don't wonder about it, and don't attempt any home treatments that could be more harmful to your pet. See a vet.
Can Belly Buttons Develop Problems?

Sometimes belly buttons might develop a rash or an infection. It can happen for many different reasons (including an accidental scratch on the belly that later gets infected). 
The first sign is a cat's seeming obsessiveness with a physical area. Once they display any obsessive, repetitive behavior, see a vet.
In case of an infection, cat owners might also notice a change in smell from the direct area. See a vet as soon as possible; this can be a sign that an infection has turned more serious.
Why Do Things Feel Pain When Their Belly Buttons Are Touched? 

If you have ever poked or prodded at your own belly button, you might have noticed that you feel a distinct and sharp "stab" elsewhere in the body. The same thing can happen to cats, and well, to anything else that has a belly button to speak of.
The reason is nerve connections.
The belly button is directly connected to nerves elsewhere in the body, and poking it causes the nerves to fire up.
It seems obvious, but no, your cat won't like being poked in the belly button any more than you might. Don't! 
Do Belly Buttons Need Special General Care? 

Sometimes, yes. 
Cats who develop infections, rashes, or stress conditions where obsessive scratching or licking has become a problem might require special cleaning and grooming.
Newborn cats and kittens up to a few weeks old are usually cleaned by their mother cat, but a human's intervention is necessary when mother cats are inexperienced or the kittens are orphaned.