When it comes to cat questions, size comes up alot. We all know that some cats are huge, while others don't come close to their seeming Sumo wrestler counterparts.
Cats come in more shapes, sizes, patterns, and shades than t-shirts.
Do you have a smaller cat? Are you wondering why they are so small or if they are ever going to grow in size?
What kind of variations can a cat owner expect in the care routine of a smaller cat? Are they any different to larger ones? 
Here's everything cat owners should know if they happen to end up with a smaller type of cat.
Why Is My Cat So Small?

Your cat may be small because of its sex.
Female cats are generally smaller than male cats. When you consider your cat small are you comparing like with like? Are both cats the same sex? However, just because a cat is female does not mean they are always smaller than male cats! A female Maine coon will often be bigger than a male Siamese cat – it is all in the breed in this situation…
Your cat might be small because of its breed.
Some breeds, such as the Maine coon, might reach weights that rival large rabbits – but other breeds, like Siamese, Munchkin, Cornish, and Devon Rex or Singapura, might stay small their entire lives. The Singapura and Munchkin both have an adult size similar to a normal tabby kitten! Your cat might be from a small breed or one of their parents or grandparents might be a small breed cat meaning they have inherited some of these characteristics.
Your cat might be small because of developmental issues.
You might not have a purebred cat. You may have a tabby or standard moggie that seems unnaturally small. This may in part be because of their heritage (parents genetics) or it may be because they are a runt of the litter or they come from an especially large litter where all the littermates might be smaller than those kittens from smaller litters. 
Usually, if they are a runt or come from a large litter, once born, the smaller kittens catch up to a normal size in time given a normal diet.
I don't think my cat is a purebred or has development issues!
Your cat might be small just the same way some people are small or large. It is just through some sort of genetic lottery!
It can be interesting to see if you can identify characteristics of breeds that might be in their family lineage that might contribute to their size or other characteristics.
For example, ragdoll cats are known for the potential of becoming large as soon as they are past the "kitten" stage. Other cat breeds, like the Siamese breed, are not known for becoming nearly as large – and might stay small throughout their lives, but look very athletic and lightweight. Does your little cat display any traits of these breeds? It could give you a clue to their size or how they might develop at a later age.
Will My Cat Always Stay This Small?

Most kittens experience rapid growth in the first six months. From month six to one-year growth tends to tail off as adult size is achieved. However, this can depend on the type of breed. 
Smaller cat breeds generally don't grow much beyond the first year, though they can still pick up weight. Larger cat breeds (including the Maine coon) can still increase in size as they grow beyond kittenhood in years two, three, and four.
Owners might notice a growth spurt in their cats if they are of a larger type of breed. If this growth spurt doesn't happen and your cat stays a smaller size, it's much more likely that you are looking at a smaller breed or they have a lineage that does not include the bigger purebreds.
Cats born with a less advantageous start that are runts might start small and seem to take a few years to catch up but with a proper diet, they can grow to a normal size such that you can't identify them as runts by the time they are a couple of years old.
Weight is a different matter. A cat might pick up and lose weight throughout their life, but their size (length, height and total potential weight) are baked in genetically.
I'm Worried About My Cat's Size

If you are worried about your cat's size and have a smaller type of cat breed, there is usually less reason to be concerned than most owners imagine at the time. But this doesn't mean that you can or should skip a vet's appointment.
If your cat is not growing the way you expect them to, see a vet. In some cases, growth may be affected by parasites.  A vet can check your cat and deal with these parasites if they are the cause of poor growth. Not dealing with potential parasites can be fatal.
A vet can also advise you on dietary requirements and confirm if any other health issues may be the cause of potential growth problems.
The best answer to most things that a cat owner would worry about during their lifetime is the same.
Seeing a vet is an important part of being a responsible cat owner. It's better to make an appointment and find out that your cat's health is fine – than to skip the appointment when it's not.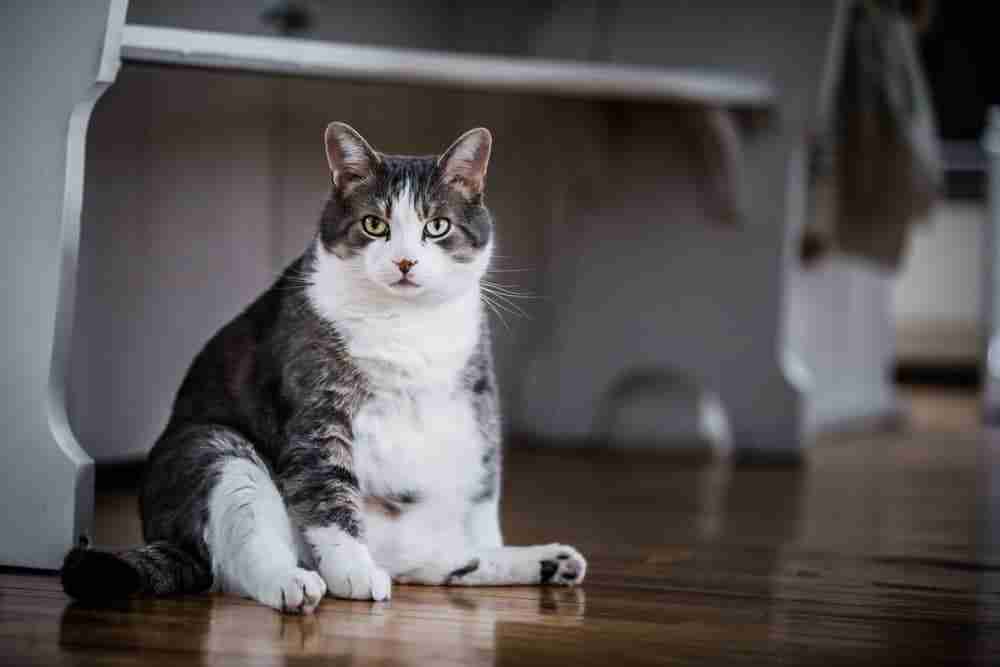 Do Smaller Cats Need Different Care?

Size is an important thing to consider when it comes to how you should be taking care of your cat. 
When a cat is slightly smaller than others, they may need adjustment to their diet to avoid overfeeding them and adding unhealthy weight.
If they are on medication your vet will likely adjust their medication in relation to their body weight and size.
Some cat breeds are exceptionally small and may have different body shapes.
The Munchkin breed of cats never get beyond a standard kitten size and have a dumpy appearance and short legs that means they are not as agile or able to play as frenetically as other cats.
Singapura cats, on the other hand, are as small as munchkin cats, but are exceptionally agile and are known to be fantastic tree climbers! 
Size can affect diet, medication, activity and play.
Your cat might be a pure version of these breeds or may share a genetic lineage that makes them as small or share similar characteristics!
Dominance Between Cats: What To Do

Cat owners who keep several cats around their home might notice that there's a dominance battle between their pets every once in a while. 
It is common when a new cat is introduced to the home, but it might also happen between older cats as they compete for attention.
Larger cats might dominate smaller ones by demarcating territory, or by insisting on specific attention or feeding routine changes. Fights can be common in cats when a dominance battle flares up.
It's normal for any household frequented by cats.
Attempts at dominance can be handled by providing each cat with their own water, own food, and own territory in the house. When cats coexist in this way, it becomes less necessary to dominate for space or attention – and owners will notice that fights between their cats become less frequent.
Speak to a vet where dominance becomes difficult to handle as an owner, or if separating cats by area is not effective. Sometimes, as a last resort, catnip can help cats to relax in times of tension.
Why Do Spayed Cats Pick Up Weight?

It's surprisingly common for cat owners to notice that their cats seem to pick up weight after they have been spayed. Even smaller breeds can experience this form of weight spike once they have been fixed – and this is due to the hormonal changes that could be triggered afterward.
If your spayed cat is picking up weight, keep a closer watch on their diet. Adapt their food, or call the vet and find out which adaptations might be the best for your specific breed of cat.
It's normal for spayed cats to gain some weight, but it can be unhealthy if they gain too much – or pick it up too fast.
When To See A Vet

A vet's appointment is a good idea at least once every couple of months. It's just the best thing for your cat's general health. 
But there are more specific reasons you might want to see a vet. If your cat shows signs of unexpected weight gain (or loss) that you can't explain or seem to control, it's time to see the vet!
Even if you think it might just be variation in breed, a vet can help to reassure you on whether or not you are correct.
Have you encountered the differences between larger and smaller cat breeds?