Many of us love to take our pets along whenever we go on a joy ride or outing. It's a great way of allowing pets to socialize.
More and more restaurants and cafes have now adopted this concept. They not only allow pets in but also ensure they don't leave on an empty stomach.
Starbucks has done just that with the introduction of puppuccinos, also known as pup cups. As the name suggests, these treats are for dogs; but many wonder, 'can cats eat puppuccinos?'
Read on to learn about these pet goodies and if your cat can enjoy them too.
What Are Puppuccinos?
Puppuccinos are a form of a treat for dogs that Starbucks has on its menu. Also known as pup cups, these goodies were introduced to treat dogs that customers bring to the coffeehouse.
It's a small cup that is just enough for your pet. So, it will be happy and with a full stomach while you can enjoy your favorite coffee item on the Starbucks menu.
Although it's made for dogs, many people wonder if they can give it to their cats. 
What Are Puppuccinos Made Of?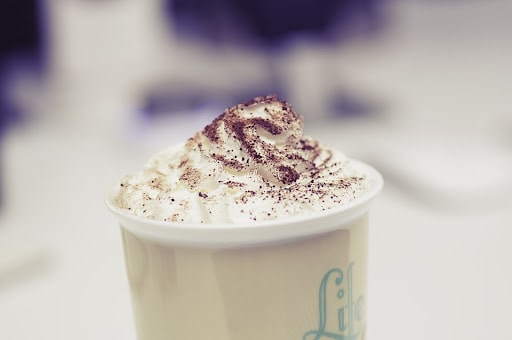 A puppuccino is a type of cappuccino that is specifically made for dogs. It is served in a small cup – usually espresso size. Puppuccino consists of whipped cream, a delicious treat for your pet.
Here is what the whipped cream of Starbucks puppuccino consists of.
Cream
Sugar
Emulsifier: E471
Propellants: nitrogen, nitrous oxide
Vanilla syrup
Carrageenan (Stabilizer)
Starbucks vanilla syrup in puppuccinos contains the following ingredients.
Water
Sugar
Natural flavor
Citric acid
Preservatives (Potassium sorbate)
Who Invented Puppuccino?
Pet Rescue Advocate Rocky Kanaka invented the puppuccino in 2008. He started serving whipped cream cups to dogs who came into his shop. It became a hit from that point onwards.
He continues making videos featuring puppuccinos and how pets enjoy drinking them. One of the amazing videos he completed was of feeding 100 homeless dogs with 100 puppuccinos from Starbucks.
Many baristas have also adopted this and have introduced goodies such as puppuccinos for pets who come along with their owners.
Can Cats Eat Puppuccinos?
The big question many have is if cats eat puppuccinos. As it was initially made for dogs, many people have this question. If pets other than dogs can have puppuccinos?
Yes, cats can indeed eat puppuccinos, just like dogs do. Cats love the taste of puppuccinos, mainly due to the whipped cream's fresh flavor. 
Puppuccinos come in small-sized cups suitable for dogs but may not be the same for cats. More on this later. 
Although cats can eat puppuccinos, how safe are these for them?
Is Puppuccino Healthy For Cats?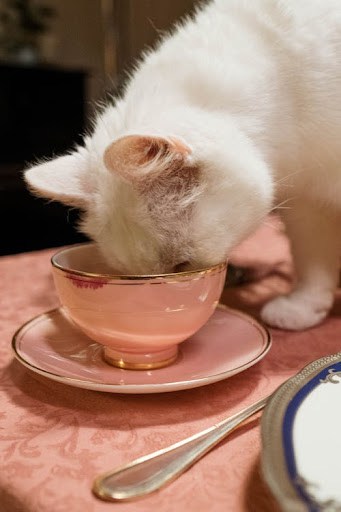 Puppuccino is not healthy for cats. Many of the ingredients in puppuccinos are not considered safe for cats. Puppuccinos consist mainly of whipped cream, which can be unhealthy for cats.
Adult cats are known to be lactose-intolerant, which means whipped cream is not good for them in large quantities. On the other hand, dogs can tolerate dairy much better than cats.
In addition, puppuccinos are high in calories, sugar, preservatives, flavoring, emulsifiers, and stabilizers. All of these ingredients are unhealthy for cats.
However, you can give your cat puppuccinos as an occasional treat. A few licks of this delicious treat occasionally will not cause much harm.
Ensure not to make it a habit to give your cats puppuccinos, no matter how much they love these.
Tips For Feeding Cats Puppuccinos
Here are a few things to remember when giving your cats puppuccinos. These tips will ensure that your cat enjoys this treat once in a while.
Younger cats are more lactose tolerant than adult cats. Therefore, try to give your cat puppuccinos at a younger age. For adult cats, keep it as a rare treat.
Another thing to remember is to avoid giving the whole cup of puppuccino. Instead, put a little bit on the lid and give it to your cat to lick.
You can put some of it as whipped cream on your coffee. You can even take leftovers home and refrigerate them for later use.
Side Effects Of Puppuccinos On Cats
Puppuccinos have high levels of many components that could cause various side effects on your cat. 
Your lactose-intolerant cat can develop symptoms like abdominal pain, diarrhea, and vomiting, about eight to twelve hours after having puppuccino. 
Ona side note, feeding your cat puppuccino can become a messy affair. It may get stuck onto your cat's whiskers and face, making removing it a hassle.
With prolonged use, the high-fat content in puppuccinos could cause pancreatitis in cats.
How Can You Order Puppuccinos?
The amazing fact about puppuccino is that it is free. You can take your cat along if you want to grab a coffee from Starbucks. Starbucks is kind enough to introduce these yummy treats for pets that come there.
It's true that puppuccino is free, but if you're not ordering anything for yourself, remember to at least leave a tip as a kind gesture.
Note that you will not find puppuccino in their regular ordering menu. Instead, you might find it on the brick-and-mortar wall. You can call them and find out if they have it and order in person or from the drive-through.
If not, you can ask the barista for a puppuccino. As it's a free item, not all Starbucks might offer it. Therefore, it's better to call ahead and find out if they have it before taking your pet.
How Can You Make A Puppuccino At Home?
For a healthy alternative, you can make a puppuccino at home. It's safer on your cat as you know the ingredients you add. 
Here is how you can make a pumpkin puppuccino for your kitty.
Ingredients:
¼ cup pumpkin puree
1 cup nonfat plain yogurt
¼ cup fat-free whipped cream
2 tablespoons oats
¼ teaspoon ground cinnamon
Method:
Combine all of the above ingredients, except for the whipped cream and cinnamon.
Blend until smooth.
Add whipped cream and cinnamon as the topping.
Can You Take Your Cat To Starbucks?
Many Starbucks coffeehouses in the US have a patio for pets to hang out. It's comfortable for dogs and cats, so you don't have to take them inside the store.
Since the Starbucks menu also includes various food items they serve customers, pets are usually not allowed on the premises for hygienic reasons.
However, you can safely leave your pet on the patio and let it enjoy a puppuccino. Avoid taking your pet to Starbucks during winter as it could get too cold outside for it.
Puppuccinos are the only treats available on the Starbucks menu for your cat. However, taking your cat to Starbucks provides an excellent opportunity to learn how to socialize.
Starbucks is generally a crowded store. So, many people come in and go out of the store.
Your cat will see many people and learn how to interact with strangers. Many people love cats and will pat your cat's head or say 'hi' on their way in and out. It is an excellent place to train your cat to be social.
Where Else Can You Buy Pet-Friendly Food and Drinks?
Several places sell pet-friendly food and drinks apart from Starbucks. So, you don't have to worry about taking your pet if there is no Starbucks outlet near you.
Dunkin' Donuts sells a cup of whipped cream known as a puppy latte, similar to a pup cup.
Another place is Dairy Queen, where you get pup cups made with sweet vanilla ice cream topped with a pet treat in the middle.
Shake Shack has a dessert made of vanilla custard and biscuits, known as Poochini. The Bag O' Bones has pet biscuits made by the Bocce's Bakery in New York.
Final Thoughts
Puppuccinos are a great addition to the Starbucks menu as they make you feel better about taking your pet while grabbing a coffee. These pet drinks were made for dogs, which makes people wonder if they can give them to their cats too.
Cats can eat puppuccinos. However, they are not the healthiest options available for your kitty friend. You should limit giving puppuccinos to your cats for safety. It's ideal for providing them with pup cups as an occasional treat.
Frequently Asked Questions
Can Cats Eat Whipped Cream?
Cats can eat whipped cream, and they love these delicious treats too. However, whipped cream at stores is high in fat, calories, and sugar. They also contain various preservatives and flavoring, which makes these unhealthy for cats to have frequently.
Is Puppuccino Just Whipped Cream?
The main ingredient of Puppuccino is whipped cream. However, it also contains sugar, flavoring, vanilla syrup, emulsifiers, preservatives, and stabilizers.
How Much Is A Puppuccino?
Puppuccino is free. However, getting it either with a paid drink or leaving a tip is best.